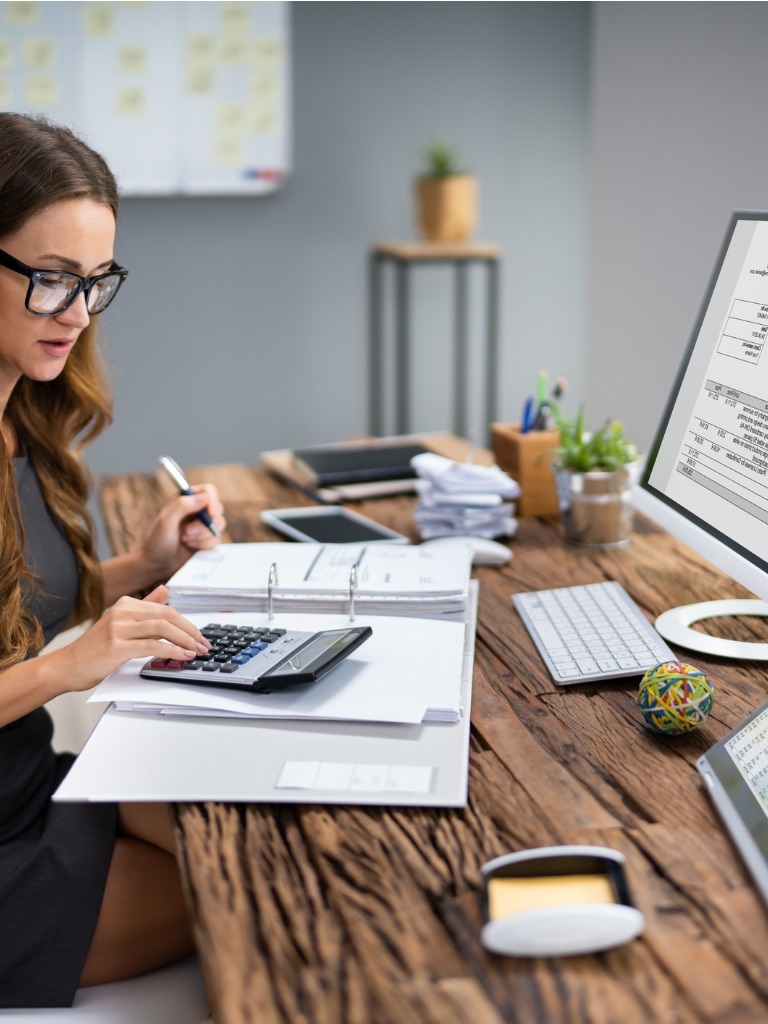 Golden Growers
Advanced Accounting and Bookkeeping Package

For most entrepreneurs, getting their business finances in order is a necessary evil. working with an accountant or bookkeeper – is just so incredibly important.

Go Paperless – There's no excuse to be drowning in physical receipts. 
Separate personal and business – Keep business and personal finances separate.
Plan for Major Expenses – Be prepared for unforeseen business expenses   
Set aside for taxes – Be prepared, track, know, and properly plan ahead. 
Keep Regular Records – This is all about doing the little things right. 
Monitor Accounts Payable – Accounts payable is one of the major components of your cash flow.
Put It On Plastic – Make sure you leave a digital paper trail. 
Set Calendar Reminders – Amongst all the other demands on your time, it's super easy to push your books off. 
Review Accounts Receivable – Business owners are far too relaxed when it comes to collecting their money
The Personal Touch
Voxer access to Margo
3 financial development calls per month
3 spot calls for emergencies
Email support and access to MM Accounting resource library
Bookkeeping and Accounting
Month end reconciliation
Deposit and expenses matched against bank statements
Categorization of expenses
Profit and loss statement preparation
Balance sheet preparation (including asset and liability review)
Advanced and customizable financial reporting
Budgeting
Asset analysis
Signup Bonus
Mapping session
SWOT analysis
CASE STUDY
Return of Investment
Hire a bookkeeper to take care of monthly bills, process payroll and update monthly books
Example from the pastClient A hired MBS to take care of all accounting process instead of hiring an in house staff.
They hired our team at MBS to do all activities regarding bookkeeping including payroll.
Our team began by implementing processes to keep the entire staff organized and maintain a steady flow as to not pressure the group.
Processes implemented:
Payroll reimbursements and deductions for the period must be sent 24 hours in advanced
A spreadsheet is prepared for payroll that will contain all changes to payroll
New employees information are to be sent the same day they are hired
Invoices that need to be issues should have quotation and/or breakdown to the client in order to promote accuracy
If emails are urgent, they should be tagged as urgent when being sent
Our team then organized weekly calls to assist with business development.
What was discussed and implemented:
Vendor payments will be processed on the non payroll weeks so that payroll always had sufficient funds
A monthly budget of all recurring expenses was created and distributed to the office manager so he was aware of all upcoming expenses
The bank was managed and check daily by team MBS to ensure there was always adequate funds for upcoming expenses
Business strategies were discussed to ensure a steady flow of income into the business
Breakthroughs that improved the business:
QuickBooks was always properly reconciled
The company was always a step ahead of upcoming expenses
The manager could focus on making sure funds were coming in since team MBS was focused on maintaining the books and paying the bills
There were no surprises when it came to not having enough money
Unnecessary expenses were reduced/removed based on they not being needed
What client received aside from breakthroughs:
Weekly calls with team members to answer any questions
Weekly reports on tasks completed during the week
Update of issues that were found and processes that were implemented to solve these issues
The client was impressed and happy with the processes and organization that team MBS did.
OFFICES ARE NOTORIOUSLY DISTRACTING
IN HOUSE RATIONAL
Paying someone for part or full time work...but not getting the results that you'd expect
REMOTE ANSWER
Offices are notoriously distracting. Think about how many times you get interrupted in a day by your email, phone, coworker, messaging software. Now think about your boss coming over and asking you questions...that you then have to go through and research, and prepare the answer. This is what happens to on site bookkeepers on a daily (even hourly!) basis. Although you might be paying someone to sit in your office 20-40 hours per week, their productivity level is probably in the gutter. Hiring remote eliminates office distractions and creates a more productive bookkeeper.
INTERRUPTING YOUR BOOKKEEPER IS LIKE...
IN HOUSE RATIONAL
Someone is right there to ask questions and interrupt their work
REMOTE ANSWER
Interrupting your bookkeeper is like having a kid constantly asking you "WHY" after everything you say. It's really hard to get everything done and done well. With our solutions, we are always there for you via email or voxer so you can ask the questions when you have them...and we can answer when we're not in the middle of your books! This keeps both hands on the steering wheel of your financials and creates a better, more accurate solution.
HIRING AND TRAINING BOOKKEEPERS COSTS THOUSANDS OF DOLLARS
IN HOUSE RATIONAL
Eggs are all in one basket - if they leave you have a gaping hole
REMOTE ANSWER
Hiring and training bookkeepers (even regular team members) costs thousands of dollars. Why? First, your time is valuable. The time you spend getting someone up to speed can cost your business thousands in wasted time. Then, when that bookkeeper decides to move on...you're time investment is now gone. Don't put your eggs in one basket. With our solution, we have a TEAM of bookkeepers. That means that when your dedicated team member is out, gets sick, goes on vacation, or leaves...your work is never compromised. Another bookkeeper steps in and takes over seamlessly. AND you don't have to worry about hiring and training. I take all of that pressure on so you can focus on the things that you do best (which I'm sure is NOT bookkeeping)
WORKING WITH A TEAM THAT SERVES MANY BUSINESSES CAN BE STRESSFUL
IN HOUSE RATIONAL
Get full access and not worrying about a remote person handling multiple clients
REMOTE ANSWER
Working with a team that serves many businesses can be stressful. I get it. BUT it doesn't stress us out. We have a system, crafted over the past 15 years in business, that keeps our bookkeepers focused on your business. That means you won't feel like one of many, you'll just feel like the one! Between regular phone calls, emails, and voxer messaging...you won't feel like you have anything less than full access.
THE BIGGEST MISTAKE THAT A BUSINESS OWNER CAN MAKE
IN HOUSE RATIONAL
Don't need meetings because I can walk there and interrupt their work
REMOTE ANSWER
One of the biggest mistakes you can make as a business owner is NOT having a weekly or biweekly finance meeting. If you never sit down, review your metrics & KPIs, and discuss strategic financial options...then you'll never have a clear picture of your financial landscape. With us, we'll facilitate a biweekly financial meeting with you so you'll always know the status and health of your finances. We'll come to the meeting prepared but we'll also create a space for goal planning and goal getting.
BUSINESS OWNERS WORRY ABOUT THE LEVEL OF SERVICE
IN HOUSE RATIONAL
Don't need to proactively schedule meetings because they are always there
REMOTE ANSWER
Many business owners worry about the level of service they can get if they can't just walk in from a meeting and speak to a bookkeeper right then. We offer weekly touchpoints, emails, and voxer access so that you always feel like you have access to us. We are always happy to accommodate an additional chat when scheduled at least 24 hours in advance.
WE USE TOOLS LIKE SHAREPOINT AND OFFICE 365
IN HOUSE RATIONAL
Worried about financial information not being secure
REMOTE ANSWER
The internet is a beautiful place! We use awesome tools like sharepoint and the office 365 suite to create a secure and encrypted vault for the financial information we need to have on hand. Believe me, it's more secure then having financial paperwork sitting on your desk for anyone to see when they walk past!
WE ARE ALWAYS HERE DURING EMERGENCIES
IN HOUSE RATIONAL
Feels easier to get ahold of in emergencies
REMOTE ANSWER
We are always here during emergencies. As business owners, things often feel like emergencies but end up being just a stressful situation. You have access to us during emergencies and we work hard to accommodate same day calls to discuss and gameplan. We have a system for emergencies where you'll notify us, we'll get the information we need, then we'll schedule a call for as soon as possible.
BUSINESS OWNERS THINK REMOTE SOLUTIONS ARE CHEAPER AND LESS EFFECTIVE
IN HOUSE RATIONAL
Remote is cheaper in In House
REMOTE ANSWER
Unfortunately, many business owners think that because solutions that are remote means that they are cheaper. The reality is - is that YES, if you hire a single overseas person to handle your books (YIKES!) then it can be cheaper. We offer a full service accounting and bookkeeping solution. And yes, it is generally much less expensive then hiring a full time bookkeeper with benefits and vacation time. But please know, we offer high end services for high level businesses
What we do not do:
No sales expansion
Not help to raise capital
Work outside of scope
IRS level of communications
Remove bonuses – detail Available