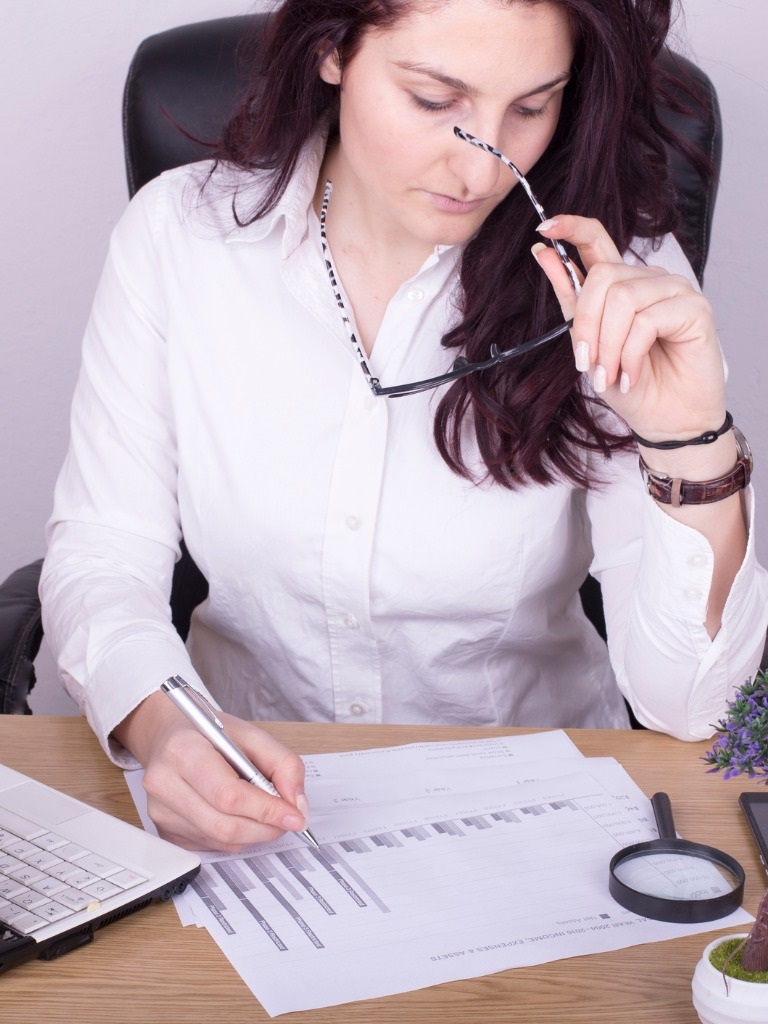 Platinum Package
Outsourced Chief Financial Officer (CFO)
Outsourced CFO services are all about value generation that goes above and beyond.
Streamlining Functions – Minimize expenses, optimize efficiency, and increase margins.
Financial Forecasting – Understand and articulate the demands on your business.
Identify Growth – Harness sales data and identify market potential.
Enhanced Reporting – Have the information you need, when you need it.
Meaningful communication – Discuss strategy & seek advice, a virtual CFO isn't just a black box into which you chuck your bills and receipts. 
Risk Analysis – Quantify the risks associated with new or existing ventures.
Trend Analysis – Understand the fluctuations in your business performance.
And So Much More…
The Personal Touch
The CFO program represents the highest level of priority for MM Accounting. By signing up to this package, you'll receive:
Unlimited Voxer access to Margo during business hours
Weekly calls during the first 90 days. Bi-weekly after that
24-hour response time on all emails
Quarterly 1 Day VIP Fly-in or Virtual Strategic Planning Meeting. This is our chance to spend the day together!
Advanced CFO Solutions
The CFO program represents the highest level of priority for MM Accounting. By signing up to this package, you'll receive:
Proactive strategic advice
Help with raising capital
Financial assistance with business plans
Distribution of NDAs
Financial HR
Gross profit analysis
Sales expansion projects
Cost reduction analysis
Sales margin increase projects
CASE STUDY
It's your Business
The business entity that you choose for your company can make a difference in the taxes you pay, the costs of doing business, and the amount of paperwork and red tape you'll have. Here is a quick look at the main entities that businesses can choose for their operations.
MAKE THE RIGHT ENTITY CHOICE
SOLE PROPRIETORSHIP
A sole proprietorship is owned and operated by one individual. It is the least complicated and usually the least expensive way to set up and run a business.
The business income is taxed to the owner on Schedule C of his or her personal tax return. Payroll taxes apply to any employees of the business. The sole proprietor pays self-employment tax rather than social security tax (and gets a tax deduction for 50% of the tax paid).
One of the major disadvantages to a sole proprietorship is un limited liability, not only for debts of the business, but for lawsuits brought against the business. Liability extends to the proprietor's personal as well as business assets.
The ability to raise capital for the business is limited to the amount the individual can secure personally. Since under-capitalization is a major cause of business failure, this factor can be significant. The deductibility of fringe benefits is very limited in a sole proprietorship.
PARTNERSHIP
A partnership can have any number of partners. Partners bring to a business more creativity, skills, capital base, and experience than any one person is likely to have.
A partnership files an information tax return (Form 1065), but pays no income tax itself. The in come or losses are passed through to the partners who report them on their individual tax returns in shares agreed upon by the partners — not necessarily equally. Partners, like sole proprietors, pay self-employment tax on net income.
The major disadvantage to a partnership is that liability is unlimited. In fact, partners can be held liable for the actions of fellow partners.
Partners have similar options in the area of fringe benefits and retirements plans as those available to sole proprietors.
REGULAR CORPORATION
A corporation, the most complex of the business structures, is a distinct legal entity apart from the shareholders who own it. Formed under the requirements of the state in which it will do business, a corporation limits its owners' liability to their investment in the company: personal assets are generally not at risk. The corporate form does not provide complete protection where personal services are involved.
If you set up a corporation and are employed by it, the corporation must withhold and pay payroll taxes on your wages.
A corporation files its own tax return [Form 1120) and pays its own income tax. Therein lies the major drawback to the corporate form: business profits may be taxed twice — once at the corporate level and again at the shareholder level when paid out as dividends or a liquidating distribution.
The corporate form allows for more fringe benefits, deductible by the corporation and tax-free to employees (including shareholder-employees).
Another drawback to the corporate form is the complexity of rules and regulations governing corporate operations (including the tax laws).
S-CORPORATION
A corporation is allowed to elect S status only if it meets certain qualifications. An S corporation generally does not pay its own income tax. It files Form 1120S and distributes K-1s to shareholders. Shareholders then report their pro rata share of income, losses, and credits on their individual tax returns. The double taxation that regular corporations face is thereby avoided with an S corporation.
The big advantage of S status is that it combines the limited liability of a regular corporation with tax treatment similar to that of a partnership. A disadvantage is that S corporations have some fringe benefit restrictions for owner- employees.
LIMITED LIABILITY COMPANY
The limited liability company (LLC) combines the general flexibility and income tax treatment of a partnership with the limited liability of a corporation.
Its Your Business
Do you dread Bookkeeping?
Do you Hate Overpaying in taxes?
Now IS the time to take Action and make sure you are in the correct entity setup
We helped a REAL ESTATE BROKER last year save about 10k in taxes!
He prepared his own books and financial statements and received a bill from the IRS.
He had a feeling something was not right and reached out to us.
We reviewed his prior-year tax return, made corrections in his books and then his tax accountant contacted the IRS on his behalf.
We were able to help him by not paying the 11k and instead get a refund of 1k!
YES! GOOD ACCOUNTANTS CAN WORK MAGIC.
Trust me, we help our clients get their ROI by 5X every single YEAR! We help them save money, time, and energy!
Peace of mind IS the key
One bad accountant can really cost you thousands! It is so sad to see businesses not asking the right questions to accountants BEFORE they hire them.
Ask the right questions.
Hiring the right accountant is CRUCIAL for your business.
My team spoke to several businesses this week who don't have any bookkeeping system set up, who have not paid
themselves anything the entire year and they are the wrong entity.
Not having the right bookkeeping set up, not paying yourself a reasonable salary AND not having the right entity is
THE FASTEST way to pay the highest tax rate PLUS have a higher risk of getting audited!
Let us know if you need help with Bookkeeping, Catching up several months or reviewing your bookkeeping to see if everything is accurate, and so much more.
We are an ALL in one Accounting Department helping Business owners with everything they need so they can focus on their businesses and they delegate everything to us!
MARGO MASRI — YOUR HEARTFELT CFO
TAX REFORM IMPLICATIONS ON FINANCIAL STATEMENTS
Planning is the Key to Tax Savings
With sweeping changes in technology and tax reform, making difference in your financial lives has never been more important. These changes present a great opportunity to transform your financials to go beyond tax preparation and reinforce your value as a proactive business professional. We ore prepared to help you embrace these changes in a way thot helps you save time and gain flexibility in your business, and deliver great outcomes for your customers.

Meals & Entertainment -New Rules
Employer's Deduction
Deductions for entertainment expenses are disallowed
Current 50% limit on deductibility of business meals is expanded to include Meals provided through an in-house cafeteria or on the premises of employer
Accountable Plans -Planning Opportunity
Opportunity to delight employees
Create Accountable Plans to reimburse expenses for business clients.
Coach individual clients to ask their employers to use an Accountable Plan for mileage and unreimbursed expenses
Provide Accountable Plan and Expense Report templates.
Asset & Depreciation -Changes
100% Bonus Depreciation is the new rule unless the taxpayer elects out of BD, for property that has less than 20 year life.
Can create a loss for the business, unlike 179 which is limited to taxable income
Asset & Depreciation -Planning Opportunity
Create a GL report of Assets Added to send to the Tax Preparer, with the preliminary Financials, so he/she can add to the tax depreciation schedule
Book 100% Depreciation as a placeholder, then adjust it to what the Tax Pro shares with you as part of your pre-year end planning
Other Income / Expense Items
Accrue Retirement Contributions Most of the same retirement plans are available to business owners, including: SIMPLE, SEP, Defined Benefit, etc
Make sure you talk with owner and discuss planned contributions that may be made before the tax return due date, and accrue those amounts in the Financials
If a Schedule C, include the retirement contribution in Other Expenses, so the Operating Income is more like Taxable Income
Tax Estimates for owners and income Tax Expense for Taxable Entities Federal and State income taxes are not deductible
Better to put payments below the line to easily identify for Tax Pros, and put after Taxable Income or Operating Income
Non-Deductible Expenses
Year-End Checklist
List of Capital Purchases
Book Depreciation
Employee Expense Reports
QBI: P&L, W2 wages, Assets (UBIA)
Identify Foreign Bank Accounts
Equity Reconciliation
Identify Tax Estimates Paid
OFFICES ARE NOTORIOUSLY DISTRACTING
IN HOUSE RATIONAL
Paying someone for part or full time work...but not getting the results that you'd expect
REMOTE ANSWER
Offices are notoriously distracting. Think about how many times you get interrupted in a day by your email, phone, coworker, messaging software. Now think about your boss coming over and asking you questions...that you then have to go through and research, and prepare the answer. This is what happens to on site bookkeepers on a daily (even hourly!) basis. Although you might be paying someone to sit in your office 20-40 hours per week, their productivity level is probably in the gutter. Hiring remote eliminates office distractions and creates a more productive bookkeeper.
INTERRUPTING YOUR BOOKKEEPER IS LIKE...
IN HOUSE RATIONAL
Someone is right there to ask questions and interrupt their work
REMOTE ANSWER
Interrupting your bookkeeper is like having a kid constantly asking you "WHY" after everything you say. It's really hard to get everything done and done well. With our solutions, we are always there for you via email or voxer so you can ask the questions when you have them...and we can answer when we're not in the middle of your books! This keeps both hands on the steering wheel of your financials and creates a better, more accurate solution.
HIRING AND TRAINING BOOKKEEPERS COSTS THOUSANDS OF DOLLARS
IN HOUSE RATIONAL
Eggs are all in one basket - if they leave you have a gaping hole
REMOTE ANSWER
Hiring and training bookkeepers (even regular team members) costs thousands of dollars. Why? First, your time is valuable. The time you spend getting someone up to speed can cost your business thousands in wasted time. Then, when that bookkeeper decides to move on...you're time investment is now gone. Don't put your eggs in one basket. With our solution, we have a TEAM of bookkeepers. That means that when your dedicated team member is out, gets sick, goes on vacation, or leaves...your work is never compromised. Another bookkeeper steps in and takes over seamlessly. AND you don't have to worry about hiring and training. I take all of that pressure on so you can focus on the things that you do best (which I'm sure is NOT bookkeeping)
WORKING WITH A TEAM THAT SERVES MANY BUSINESSES CAN BE STRESSFUL
IN HOUSE RATIONAL
Get full access and not worrying about a remote person handling multiple clients
REMOTE ANSWER
Working with a team that serves many businesses can be stressful. I get it. BUT it doesn't stress us out. We have a system, crafted over the past 15 years in business, that keeps our bookkeepers focused on your business. That means you won't feel like one of many, you'll just feel like the one! Between regular phone calls, emails, and voxer messaging...you won't feel like you have anything less than full access.
THE BIGGEST MISTAKE THAT A BUSINESS OWNER CAN MAKE
IN HOUSE RATIONAL
Don't need meetings because I can walk there and interrupt their work
REMOTE ANSWER
One of the biggest mistakes you can make as a business owner is NOT having a weekly or biweekly finance meeting. If you never sit down, review your metrics & KPIs, and discuss strategic financial options...then you'll never have a clear picture of your financial landscape. With us, we'll facilitate a biweekly financial meeting with you so you'll always know the status and health of your finances. We'll come to the meeting prepared but we'll also create a space for goal planning and goal getting.
BUSINESS OWNERS WORRY ABOUT THE LEVEL OF SERVICE
IN HOUSE RATIONAL
Don't need to proactively schedule meetings because they are always there
REMOTE ANSWER
Many business owners worry about the level of service they can get if they can't just walk in from a meeting and speak to a bookkeeper right then. We offer weekly touchpoints, emails, and voxer access so that you always feel like you have access to us. We are always happy to accommodate an additional chat when scheduled at least 24 hours in advance.
WE USE TOOLS LIKE SHAREPOINT AND OFFICE 365
IN HOUSE RATIONAL
Worried about financial information not being secure
REMOTE ANSWER
The internet is a beautiful place! We use awesome tools like sharepoint and the office 365 suite to create a secure and encrypted vault for the financial information we need to have on hand. Believe me, it's more secure then having financial paperwork sitting on your desk for anyone to see when they walk past!
WE ARE ALWAYS HERE DURING EMERGENCIES
IN HOUSE RATIONAL
Feels easier to get ahold of in emergencies
REMOTE ANSWER
We are always here during emergencies. As business owners, things often feel like emergencies but end up being just a stressful situation. You have access to us during emergencies and we work hard to accommodate same day calls to discuss and gameplan. We have a system for emergencies where you'll notify us, we'll get the information we need, then we'll schedule a call for as soon as possible.
BUSINESS OWNERS THINK REMOTE SOLUTIONS ARE CHEAPER AND LESS EFFECTIVE
IN HOUSE RATIONAL
Remote is cheaper in In House
REMOTE ANSWER
Unfortunately, many business owners think that because solutions that are remote means that they are cheaper. The reality is - is that YES, if you hire a single overseas person to handle your books (YIKES!) then it can be cheaper. We offer a full service accounting and bookkeeping solution. And yes, it is generally much less expensive then hiring a full time bookkeeper with benefits and vacation time. But please know, we offer high end services for high level businesses
What we do not do:
Someone who just does not want this
CEO"S who are willing to be part of the process and part of their financial support
Not for CEOs who are afraid to face their money fears and are content in the current financial situation they are in
Who will not show up to the calls Take responsibility of the business
People who do not value commitment and cant see themselves completing the agreement